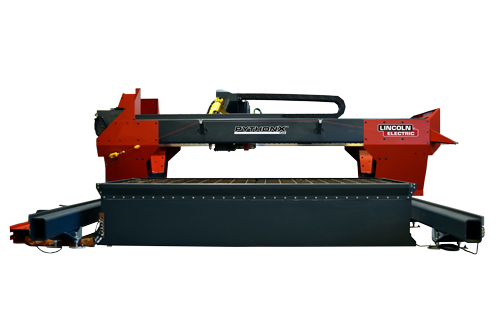 PythonX® PLATE
PythonX PLATE is a robust robotic plate cutting solution for a wide range of plate sizes. The feature-rich software makes it easy to use and allows the Operator to control every aspect of production. The system offers better reliability and ease of use when compared to non-robotic plate cutting tables. Due to the progressive machine design and more than a decade of advancements in robotic plasma cutting technology, PythonX PLATE makes robotic plate cutting a real possibility for many organizations.
Torchmate® CNC Plasma Tables
Each component of a Torchmate CNC Plasma Table was designed and engineered by Lincoln Electric to seamlessly work together, and be covered 100% under a single warranty. The mechanics of the tables were designed to withstand tough shop environments and long work hours. Featuring easy to use software, operators from all backgrounds will find the table easy to learn and run. All machines come fully assembled with all the required components, and can be up and running in 30 minutes. With up to 65% faster cut speeds, improved cut quality, and exceptional repeatability, Torchmate tables have been setting new standards across the industry. Dramatically lower consumable costs allow you to spend less money cutting parts. Better cut quality results in edges with less dross accumulation, and reduces the need for post process finishing. Lower machine maintenance costs and longer machine life expectancy keep your machine running longer than the competition.
Torchmate 5100
The Torchmate 5100 CNC Plasma Table was specifically designed to handle the rigors of continuous production runs with impressive repeatability and reliability. These complete systems are fully backed by Lincoln Electric with a one-year limited warranty, and come equipped with encoded servo motors, a helical gear rack, and a lubricated gear to gear rack interface. Precision engineering and thorough quality checks lead to minimal downtime and maintenance costs. Rapid traverse speeds of up to 1,500 inches per minute provide the speed needed to run full days of production with efficiency. The new bevel head option gives you the ability to create weld prepped parts much faster and easier than any manual method. The Torchmate 5100 has the ability to cut up to ±45° angles depending on the material thickness and plasma configuration. With two different table configurations, and 4 different plasma power supply options to choose from, there is a Torchmate 5100 CNC table to suit everyone's needs.